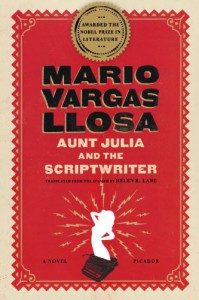 I think I have come finally across a writer of Latin American origin who far surpasses Garcia Marquez's ability in terms of engaging a reader.
Aunt Julia and The Scriptwriter
is a delightfully quirky tale of an illicit romance and the slow descent into madness of a brilliant scriptwriter.
The main narrative does not only focus on Marito(the narrator) and Aunt Julia's forbidden love. The events of their first meeting and whirlwind courtship alternate between the highly provocative novellas of Pedro Camacho(the scriptwriter)that are actually scripts for radio serials.
Thus as the story advances, we see Marito and Julia's innocent flirtation develop into a serious kind of love culminating in marriage. At the same time Pedro Camacho's titillating radio serials go from bad to worse until characters from one story begin appearing in another one in entirely new roles but similar names as his grip on reality slips.
Even though the subjects around which the plot revolves sound dead serious, Llosa magically transforms then into commonplace affairs without ever trying to be profound or grim. The author's incredible comic timing brings out a few laughs now and then and even under somewhat depressing circumstances. And what could be called the most striking feature of this book, not even once did the illicit relationship seem like a grave sin or an unforgivable one. Instead the writer brings out the ordinariness of a courtship between a man and woman - the only difference in this case being the man is the 18 year old narrator Mario and the woman being his 32-year old divorcee of a beautiful aunt. Theirs is an innocent and pure kind of love without there being a strong element of lust involved.
The writing style(translation) is deeply reminiscent of the European classics and can pose a bit of a problem at times since one needs to look up a few words in a dictionary every now and then - a lot of them are no longer used in contemporary fiction. But it is never a hurdle big enough and to be truthful it adds to the old world charm of the backdrop. The characters are all lifelike and more or less memorable, especially Pedro Camacho's. In the beginning he comes across as an annoying, selfish and tyrannic writer who cares about little else in the world other than his creativity - condescending and imperious. But at the very end of the novel readers maybe compelled to change their opinion of him after learning about his past life.
Pedro Camacho's short stories are strange and reminded me of Maupassant right away. And his way of hurling subtle insults at Argentina in his stories was thoroughly amusing.
Finally what I took home from this book was the feeling that perhaps illicit romances aren't all that sinful or depraved but that is what the society likes to make them out to be.
P.S:- Super shocked (and equally happy) to learn that Vargas Llosa actually married his aunt Julia Urquidi and the novel which I just read is actually semi-autobiographical. I wonder if Pedro Camacho's part is also real.